Winter Sales Ecommerce Tips: Spicing Up Your E-Store & More
What are the best winter sales e-commerce tips for 2023? Well, many tips are available for spicing up your E-store during winter. But today, I will talk about the ten most interesting and practical advice to increase your sales this winter. 
E-Commerce is a way of doing business that happens online. Business owners can sell goods and services directly to their customers rather than through a brick-and-mortar store. This is helpful for people who need easy access to a store or want to sell goods or services to a broader audience. 
In winter, people are happy and excited. This is the time of year when you can expect to see solid sales and conversion rates for your online store. Following the right marketing strategies can make your store stand out and succeed.
If you do your business right, you can make winter easier for people by setting reasonable prices and doing good things for the community. Sales will rise. As a result, you are helping your company. However, you must be careful that your goal is good, not just to make money. 
Now, look at the top 10 best winter sales e-commerce tips below.
Top 10 Best Winter Sales Ecommerce Tips: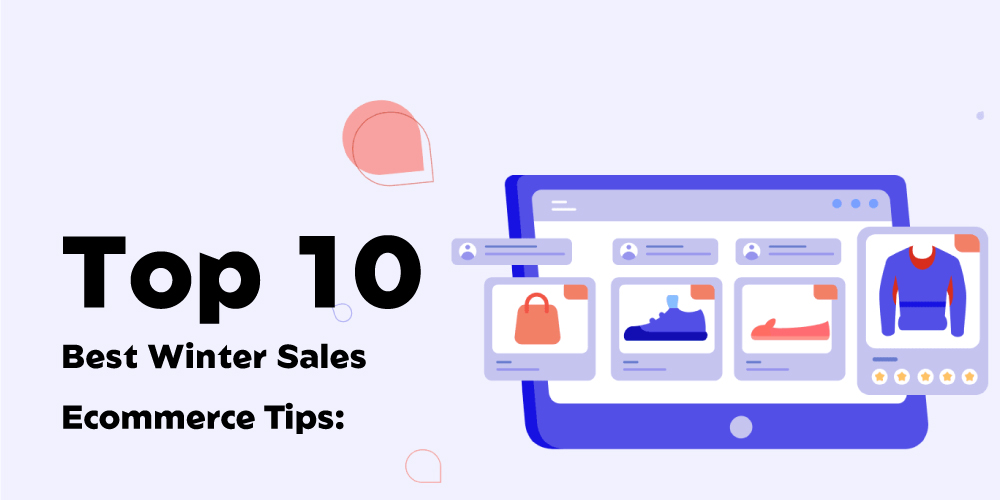 People want to be warm and comfortable during the winter. This is reflected in the everyday clothes, accessories, and other things they use. Now that you know this, it's time to use marketing strategies to make your e-commerce brand more visible to your customers. You can do this by doing different and unique things to them. 
We can help you by providing helpful information and strategies to increase sales this winter. Online stores usually have a lot of customers during the winter, but this year the number of people ordering online has been going down a lot. This is because many people are on holiday, and shipments take longer. 
But don't worry, because next year things will be better. Small business owners must work hard to make a profit, but as eCommerce grows, more people see the value in small businesses. 
Sometimes, this can be hard because things aren't going the same as planned. Yet, you can do a few things to boost the effectiveness of your online business and increase sales. Below I have provided the ten most helpful winter sales e-commerce tips. Following these tips can easily spice up your E-store and more.
Know  your target customer:
You must understand your target market to boost sales in your e-commerce firm. This will enable you to address their demands with high-quality goods and services and establish a solid online presence. 
A successful e-commerce firm may be operated in addition to creating a digital marketing plan. To ensure you sell your products to the right people, you must do some primary market research. 
Identifying your target market's demands, likes, and dislikes via this can help you better understand them. Based on this information, you can develop creative ways to get them to buy your products. 
Reports on sales analytics can assist you in determining what works effectively for your company and what needs to be modified. You can then use this information to create a strategy to make your customers more interested in your products and services.
Utilize social media effectively

:
Social media is a great way to find new brand information and make buying decisions. 25% of social media users follow different brand pages, so you can influence their buying habits by promoting your page on other social media sites. 
Social media can be an excellent way to find new stores to shop at, especially if you want your store to be noticed. Social media marketing is essential for businesses to keep their followers updated on what's new and to sell attractive products. 
Try to share user-generated content, work with social media influencers, and ensure your content is high quality and engaging. Remember to include links to your website and contact details on your social media profiles to increase consumer acquisition. 
You can also run polls and ask your followers what they want to see on your website next. Finally, ensure your images are high quality so your customers know what they're buying. Change your social media theme to match the winter mood, and you'll get more customers.
Make your loyal customers feel more special: 
Retailers realize that to increase online sales. Companies must concentrate on offering clients enjoyable experiences that make them feel valued. They can offer repeat customers personalized discounts on products they like and use their location data to suggest hyper-personalized local deals (with the customer's consent). 
They can also introduce tiered discounting for every repeat purchase and add a complimentary product for bulk orders. Finally, they can personalize prices and discounts based on customer loyalty status. 
Providing superior customer service is the best way to get good reviews, repeat customers, and more referrals from online shoppers. This makes customers feel confident and secure, encouraging them to buy from you again.
Focus on Customer Interaction

:
Marketing is a way of connecting with customers and learning what they want. This is especially important in the winter when people are likely to be home and not out in the cold. 
Please take advantage of this opportunity by doing surveys and quizzes to discover what your customers want and how they see your brand. They're the best judges of your business. These tactics let you learn much about consumer preferences and habits and get feedback. For example, you could hold a photography contest where people post their best winter memories. 
This will help you find old photos and memories from your past, making your store look more personal and making people want to visit it.
Develop a solid email marketing strategy:
Emailing is a great way to reach your target market and reduce cart abandonment. Research indicates that email marketing will yield a 36% return on your investment (ROI). 
You can create an email list on your website to improve your business outcomes. This will help you to reach more people with your messages and thus increase the chances of conversions, sales, and profits. You can then send personalized emails that are relevant to your target customer and contain high-quality content. Sending out emails to your subscribers regularly is a method to stay in touch with them. 
You could offer discounts and deals, announce new services and products, or share tips, news, and other valuable information. Use tools like Constant Contact or MailChimp to measure your emails' open and click-through rates if you want good results.
Offer great deals and discounts

:
As a seller, you can make more money by setting lower prices that benefit both you and the consumer and by offering discounts and holding sales on your website and in all your advertising channels when people are likely looking for deals. 
When the weather changes quickly, people must change many things they own – like the clothes they wear or the home decor to keep their house warm. But, unlike spending needs, income doesn't increase proportionately when prices are raised. Most people buy things online because they want to save money. 
But sometimes, people will only buy things if the prices are low. So, you can give discounts or have special sales when people buy things online. But be careful – if people think your products or services are low quality, they might not want to buy them. 
To begin, learn what your consumers think about the quality of your products and services. If they do well, you can raise the price to encourage sales.
Develop fast and flexible shipping and payment options:
People often look for easier ways to buy things. In this case, online is the best place because they can get them faster than if they went to a store. Many stores now offer same-day delivery to ensure people can quickly meet their needs. 
However, doing this is only sometimes possible, so some stores provide faster shipping options that may not require same-day delivery. If you can make your shipping options faster and more efficient, you can make your store more competitive. 
In the modern eCommerce market, convenience is a significant factor. By offering different payment options, you create a smooth, seamless customer experience that reduces abandonment and encourages customers to buy more. Credit and debit card payments are standard, but shoppers seek more flexibility. 
Knowing your audience's location and cultural shopping habits can help you decide which payment methods to include on 
Mobile devices are essential because they help us make decisions and find information. In 2023, people will mainly use their smartphones to do these things. The days when we only had shops and catalogs to choose from were over. 
You need to take inspiration from the mobile moving forward. Before visiting the stores, 64% of smartphone users use mobile search to get ideas on what to buy. While inside the store, 20% of mobile users use their cellphones to compare costs and almost a third look for information. 
Many people use their smartphones to buy things, but they aren't the only way. People also find new companies and products when they search Google on their phones. 
Smartphones and tablets are mostly used to travel to the shop, even though more and more customers are willing to purchase online.
Bring back the nostalgia:
In winter, we remember old things and create new ones simultaneously. We enjoy singing carols, playing with snowballs, and building Snowmen. On Christmas morning, we all gather around the fireplace to open presents and get together to sing Christmas carols. 
When you design your winter collections, try to include pictures that show your customers enjoying their products in fun and nostalgic ways. You can also use popular catchphrases and quotes from famous TV shows to make your customers happy.
Optimise for timely deliveries:
During winter, there are more delays in shipping, returns, and other problems. You should make shipping and logistical investments to simplify things for your consumers. 
Choose a shipping partner carefully, be transparent about your delivery dates, and categorize your products by delivery date. Make sure your packaging is simplified so that fewer returns happen. Finally, make sure the customer has a hassle-free post-purchase experience.
E-commerce tips for beginners
:
Starting your own business is an enriching experience. You have to learn many things along the way, and new business owners often have a lot of enthusiasm for the right things. Here are some tips for e-commerce success for new business owners like you. We also suggest that you learn about these tips before continuing and ensure you understand everything we will cover.
Start making connections with relevant influencers:
Finding the best influencers to advertise your products can take time, but it's only sometimes guaranteed. Some people have had good results working with a particular influencer, but it may take less than six months for that person to generate a lot of sponsored posts. 
Finding an influential person can be challenging. Even if someone charges a lot for advice, sales usually want to follow. Some people think that influencer marketing is an excellent way to make money. 
This type of marketing is where people with many followers on social media help promote a product or company. Choose micro-influencers who focus on your niche, and then you should start interacting with them on social media. 
You also want to focus on raising brand awareness and getting people to remember your company, not just buy your products. Lastly, you may create presentations and videos for marketing by collaborating with influencers.
Join a few social media platforms:
Some businesses must start using multiple social media platforms to market themselves. For example, some people only use Instagram to post about their business and focus their influencer marketing efforts there. 
Others only use Facebook because they've found that Facebook marketing works well for their business. If you use more than one platform, it can give you a competitive advantage. 
Many companies focus on just one or two social media sites, which can be risky. If one of these sites goes away, It will hurt your business. It would be best to use several social media sites, so you're independent of any of them.
Create ads immediately:
People who see your ads are more likely to visit your store. You'll need to try various ads to determine which ones work best. The cost of advertising will change at first, but you can start with a lower budget and increase it as you go. 
Remember that an ad takes a few days to be optimized, so start with a few and see how they work. If you return your profits to marketing, your business will increase. Finding your best-selling items and determining if the cost of your product makes it worthwhile to invest in advertising might take a few weeks. 
You can use a traffic calculator to determine how much traffic you'll need to produce to reach your financial goals.
Make your website visually appealing
:
The website should be visually appealing, with photos of products from different angles to show their various uses. You should use eye-catching banner images and blog posts with many photos to make your website look appealing to visitors. This will help customers imagine themselves using your product or service during online shopping.
Provide free shipping:
When you start a new business, give your customers a way to save on shipping. One way to do this is to offer free shipping as a sales incentive. This way, you lower the risk that customers will buy from you without knowing you first. 
If you're an online business, shipping is often a high cost. But because so many companies on AliExpress offer free shipping, you can undercut your competitors without sacrificing your profits.
E-commerce photography ideas
:
E-commerce requires good product photos to sell your products. 93% say that excellent visual appearance is a critical factor in buying, and 90% say that good-quality images influence purchase decisions. 
You can create great product photos with a smartphone without hiring a professional photographer. However, some people still use professional cameras to take great product photos. 
High quality and simplicity of use are only two benefits of utilizing a smartphone for product photography. You can improve your product photos by learning some simple tips. Below are some e-commerce photography ideas for you.
Start by Choosing the Right Background:
All product photos have a background. The background can be all white, which makes your product stand out against a stark white backdrop. Or you can choose a color that matches your brand, like blue, pink, or red. 
The options are endless. The only rule is that the details of your product are visible, and the background doesn't overpower it. Some colors don't appear very well on black headphones or sneakers because they're not as bright as others. 
You can change the background of your photos to match any product, no matter how dark or light the color is.
Feel free to try different angles when taking product shots. This photographer took photos from above and below to show the object's size more clearly. You can also remove distracting backgrounds by shooting from an unusual angle. This can create a "wow" effect. 
When you take a low-angle shot, the product will look bigger than it is. This can make the small details stand out and make the product look more attractive. A high-angle picture will make the product look smaller and more detailed than it is, while a Dutch-angle shot will make the product look like it's floating in the background. 
You can also experiment with different angles and lights for a unique look. Finally, use natural light and creative props to add an extra touch of interest.
When you take photos of products, it's essential to consider the lighting conditions. For example, shooting with a flash or in the middle of the day can cause shadows, making parts of the image too dark. You can use shadows to your advantage as an artist, but they'll often distract from the product. 
You can do several things to diffuse the light when shooting products. When you're taking pictures with flash, it can make the shadows look brighter or darker. Using natural light, try positioning yourself near a window to diffuse the harsh sunlight. Moving the studio lights around can also help you get the desired effect. 
When shooting with the window light, use white bounce cards to light the product evenly from all sides. This will reflect light from the window, and It will illuminate the darker side of the product.
Experiment with lifestyle photos:
Photos of products can help shoppers understand the size and proportions of the product. This is particularly important for items that require a response like "How big is that?" Contextual photos help customers imagine what their life would be like with the goods. 
To create eye-catching product photos that will make your customers want to buy your products, you need to consider the type of product you are selling and your audience's typical environment. Clothes and jewelry can boost sales when shot in context, like in a setting like a coffee shop or a model wearing the clothes. 
Additionally, products like consumer electronics, sports equipment, and power tools can be more effective when shown in a rich, emotional context. Giving your brand's narrative a voice on social media is a great opportunity.
To take great photos, you need to understand how a camera works and how to use it. Regardless of the camera, some basics always apply. Choose the highest image quality setting your camera supports to make your photos look their best. 
If you're using a RAW file, you'll need to be able to edit it using special tools. You can set the ISO to the lowest possible setting to keep the noise level down on your camera. To adjust your camera's white balance, use the "Auto" or set it to the same temperature as your lights.
Manual exposure settings let you control how much of the picture is in focus, depending on the lighting. In stable lighting, your lens's "sweet spot" is usually two to three stops up from the widest aperture (lowest f-stop). 
If you want more focus in a lifestyle shot, you might need to use a narrower gap, which will make the background blurry. When you use a higher "f-stop" on your camera, you must keep your shutter open longer to get a good picture. This tells the camera to use less light to take the picture.
If you're using an optical zoom lens, you should only zoom in if necessary. For example, if you're using a camera phone, you shouldn't zoom in because you don't have that feature. To get good photos of your online shopping, use a lens that's good for wide-angle shots, and then use a telephoto lens if you need to get closer to your products. 
You can also read 10 Reasons Why Professional Image Editing Is A Must For E-commerce Business to learn more about the importance of E-commerce photography ideas.
Frequently Asked Questions (FAQ):
Que: What Is E-Commerce Marketing
?
Ans: E-commerce marketing is a way to get customers to your online store and make them more aware of your products. You can do this through various methods, such as social media, email campaigns, digital content, etc. Before creating a successful marketing strategy, you need to understand how these different methods work.
Que: What Is an E-Commerce Marketing Strategy?
Ans: An E-commerce marketing strategy is a plan used by businesses to reach customers online. This strategy is based on the goals and objectives of the company, and it takes time to develop. When creating an e-commerce marketing plan, many factors must be considered, such as the target market, the products and services offered, and the online store's overall branding. To create a successful e-commerce marketing plan, you must know what will help your business grow. To reach your goals, you must set some goals and define what you want to achieve. Break down your goals into actionable steps, so you know exactly what you need to do to reach them.
Que: What makes an e-commerce website successful?
Ans: Refining your funnel approach helps you get customers from browsing to buying, with clear actions on your website that keep them engaged the whole way. This means reminders about their abandoned carts and surveys at the end of purchases, so you know they're getting the best possible experience.
Que: What kinds of e-commerce businesses exist?
Ans: E-commerce businesses sell goods and services online using business models such as:
From one company to another (B2B). When an e-commerce website sells a product or service to another business immediately.

From business to customer (B2C). The B2C model involves a company selling goods to a single end-user or consumer.

Direct to the customer (DTC). This happens when a manufacturer or wholesaler sells a product straight to a customer without going through a retailer.

Customer to customer (C2C). Under this model, one consumer sells products to another; resale sites are a frequent example of this (like eBay).

Consumer-to-business shopping (C2B). This model applies to you if you provide goods or services to a company as a freelancer or contractor.
Que: How can I retain customers returning to my e-commerce store?
Ans: Make sure you have a schedule for when your products go on sale on your website. This will help you create a sense of urgency and encourage people to buy your products quickly. You should also watch ways to bring back your old customers through loyalty programs or other initiatives.
Conclusion
:
Did you enjoy the ten best winter sales e-commerce tips described above? Hopefully, the answer is yes. Starting your own e-commerce business is both exciting and challenging. 
You'll learn a lot about choosing a product, evaluating its viability, figuring out how to produce it, building an online store, and marketing and selling to new customers. The process can feel like you're solving a complex puzzle, but it's ultimately rewarding. 
There are many ways to boost your e-commerce sales; you don't have to be a pro. Please familiarise yourself with the best strategies for your business, and use them to increase sales and reach your revenue goals. 
So, what are you waiting for? Follow these winter sales e-commerce tips and spice up your online business more. And also, remember to comment below if you have faced any troubles with these tips.
About Author