How to photograph jewelry for Etsy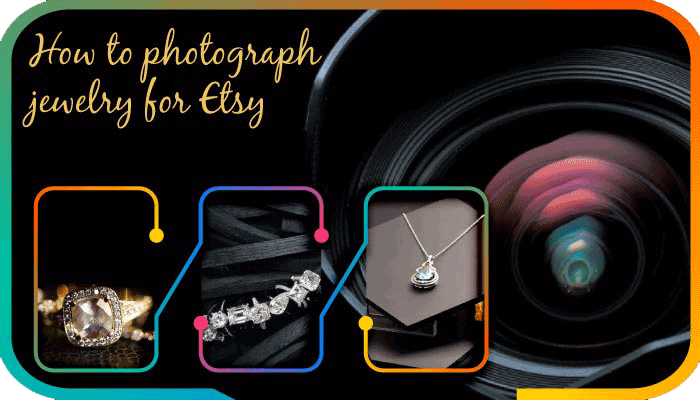 No other marketplace can beat Etsy in the handmade marketplaces. Here you will find 1.8 million handmade sellers and 54 million members. Since 2005, this platform has been ideal for unique handmade craft especially jewelry. Designers can easily share their creative thoughts and make a profit. So, the question is how could you compete herein or attract sellers? You have to remember one thing, like good photography. So, how to photograph jewelry for Etsy? We will share some important tips regarding jewelry photography for Etsy in the following section. Let's get started.

15 Tips on How to Photograph Jewelry for Etsy
Here are some amazing tips which will help you to take a stunning photo. So, let's see.
1. Know how to properly shoot the item
Camera setting is important while taking a photo of your jewelry. You can use program mode for shooting. Interestingly, the digital camera manufacturer uses auto mode which automatically informs you which settings will be best for you. But, you can control your photo's specific aspects, therefore, you can make your photo balanced and clear.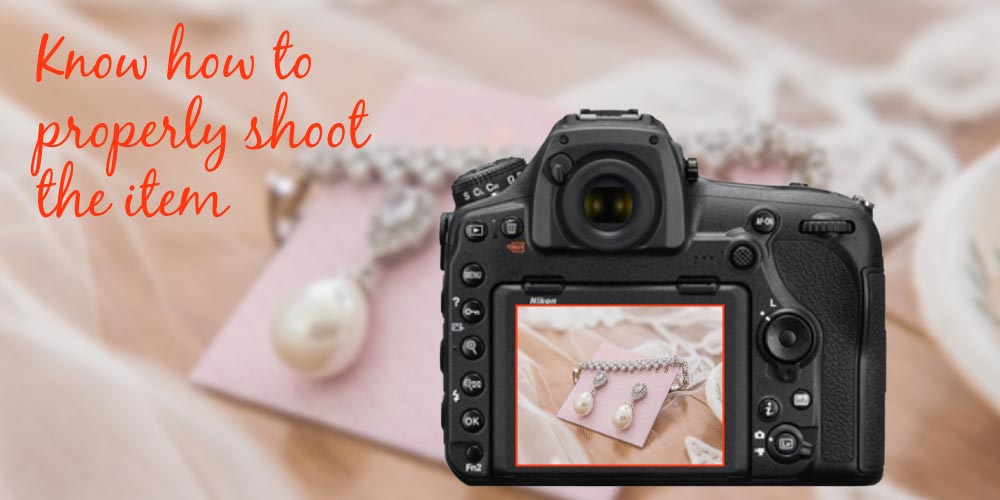 2. Manage a Tripod
For shooting sharp photos, tripod use outweighs other things. Having no, well, then purchase a new one. Don't need to buy an expensive tripod; especially when your usage is limited. However, you can create a tripod especially for close-up shots, or use it at difficult angles. For the best shooting, you need to find something to lean the elbow.

3. Self-timer
The next point is self-timer. It is essential if you want a sharp photo. In my view, the perfect shooting length is a 2-second self-timer. If your camera has no self-timer, you can use the custom timer.

4. Manage a Lightbox
Lighting plays a significant role in successful photography. Lightbox will give you proper lighting. If you have not, then manage yourself. Also, you can build by managing all the supplies.

5. Natural Light
Artificial lighting is good, but natural lighting will make your photo more vibrant. If you have a window where the sunlight passes, you can shoot beside that window.

6. Proper Light Setting
You already know the importance of lighting. While shooting, try to use natural bulbs like a fluorescent light. When shooting with natural light, you had better choose daylight. Also, you can select auto mode instead.
7. Adjusting the Light balance or exposure
The next point is adjusting the light balance or exposure based on the background texture or color you choose. For example, if you shoot on a white background, you can adjust it to +1.

8. Macro Setting
If you are in auto mode for a close-up shot, your camera setting will turn into macro mode frequently. However, if you change the setting into program mode, then manually switch to the macro mode.

9. ISO
ISO setting is essential to make sure a sharp photo. It is important when you shoot outside during nighttime or in a low-light setting to ensure clarity. You can set the ISO 100 or 200.

10. Turn off the flash
Typically, we use close-up shots for the jewelry. In that setting, you don't need to use flash. If the shooting is in dark, you can adjust other camera settings or change the background.

11. A white background image will work as a primary photo
Today, white backgrounds have become a popular setup for e-commerce photography, especially for jewelry photography. Using that setup, you can easily display your product better and grab buyers' attention easily. When you ensure your product image with a white background, your buyer becomes interested to check the image closely because it provides details of the product.

12. White background photography let you show your creativity
The good news is Etsy allows 10 photos to the listing. Now you have a chance to shoot your product from different angles. Also, you can apply your creative shooting idea. Using the white background, you can focus your product clearly. Plus, ten more photo boxes will allow you to focus from different angles. Note: While shooting jewelry for Etsy, try to fill all the photo boxes because it will help the buyer make the right decision.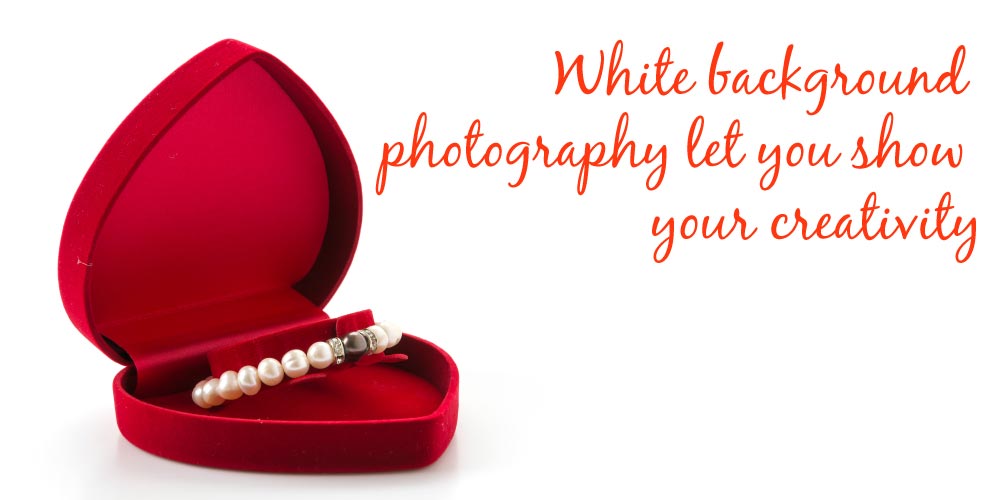 13. Try to give lifestyle idea
Naturally, every buyer wants to get a unique idea of using jewelry. You can use that thinking as your weapon. You already know Etsy allows 10 photos so you can share the matching, wearing and different style-related information. Another suggestion is if your product comes with intricate design and unique details, try to focus on every detail and capture it clearly. One word of caution: Use natural lighting and the right macro lens to make the photo clear.
14. Edit your photos
So, examine clearly after shooting. See, do you like your shooting or does the shoot satisfy you? It is natural that you can't shoot 100% error-free photos. That's why editing the photo is important. By editing, you can fix the problem of your capture without reshooting. Editing will give your photo appealing and vibrant.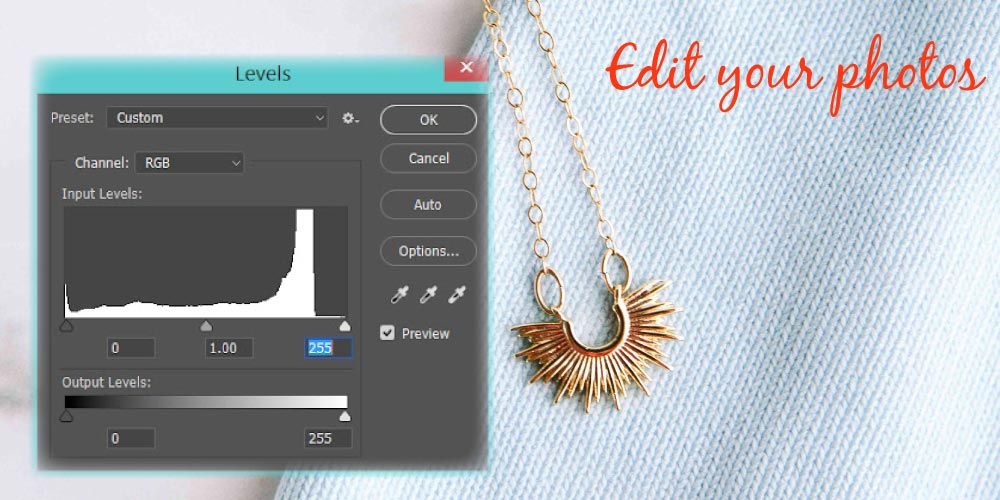 15. Use the right and proper background texture for your jewelry pop
Though Etsy allows 10 photos in the listing image section, you need to ensure different images with different unique backgrounds. Try to find unique and innovative ideas for each image. Simultaneously, you can change the background and texture based on the image. However, choosing the right background texture will add more shine to the product.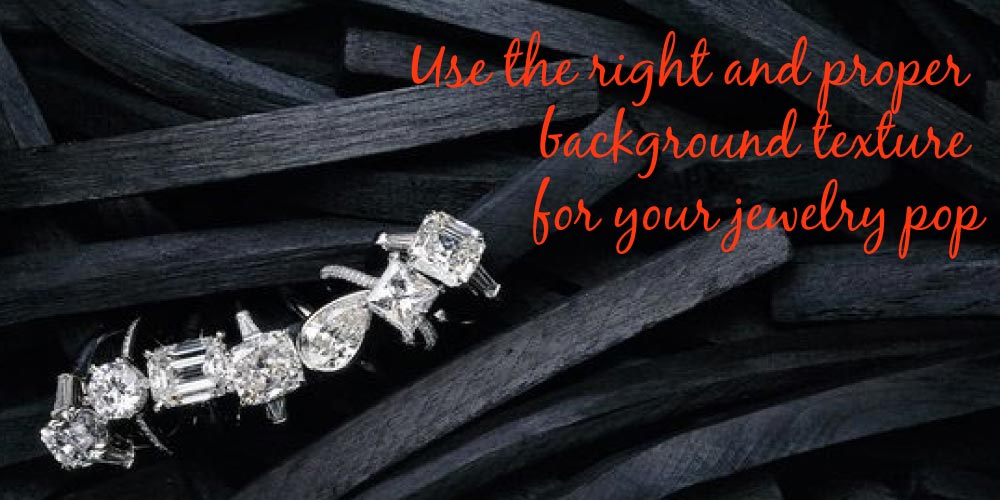 Some benefits of White Background Images
White background photography brings some worthwhile benefits. Here we enlist three of them.
1. Attracts potential buyers
An image with a plain white background can easily grab the attention of potential buyers. In the clean white background image, a buyer can easily focus on the product because nothing is in the background to distract your attention.
Images with professional quality white backgrounds get responses from potential buyers.
When you ensure a studio-quality image with a white background, it can easily get a positive response from potential buyers. For example, when you capture a ring photo using the lightbox and iPhone, you can grab potential buyers' attention. Using that setup, your image will be sophisticated, cleaned, and professional. The buyer feels interested to examine the picture and thus gets a buying decision.
3. Sales boost
You already know two amenities of white background. Both will help to get a positive response from potential buyers. Moreover, the white background makes the image clear and influences them to check. So, when they check the image hopefully the chances of purchase will increase.
One study shows that, after visualizing, people can memorize 80% of that thing. On the other hand, only 10% of the thing will be remembered after reading. Hopefully, you get the significance of a professional-quality image using those statistics. So, it can easily be mentioned that a professional with a background image can boost sales.
Some tips on while shooting jewelry item
Now, we are going to share some incredibly easy jewelry-related photography tips. Using those, you can create stunning images of your jewelry items. Also, we'll talk about an easy way to create multiple pieces of content from a single piece of jewelry.
You can use little marble tiles for your pendants and earrings. Also, you can get them at bathroom shops and tiles to ensure some additional colors, textures, and decoration. Another decoration idea is you can use small gems and gemstone beads beside your jewelry. Note: Always try to capture multiple photos of the same item to avoid recreating the whole thing later.
Now, you can take some plants and play a little with flat lace. Using those items will make the photo ideal for social media, and blogs. You can show your creativity on those platforms. You can try combining unique items and layouts. One word of caution: You can use manual mode. Plus, you can avoid over-exposing your photo, therefore, you may lose some details.
Now, comes on the editing strategy especially for Etsy. When you upload a photo on Etsy, it will become square automatically. The authority will crop your photo. Also, the item will be centered in the thumbnails section. So, better to upload a square-size image on Etsy. Therefore, your thumbnail photo's quality will be improved.
Additional Tips on how to add some life to the image and some easy styling additions and textural touches that will make your handcrafted pieces shine.
In the first tip, you don't need to buy anything. You can easily frame your piece of jewelry by adding a hand. Just hold the piece in your hand or you can ask your friend or child to hold the item. Then, take the photo from directly above. That technique will help to clearly see your pieces at scale because everybody's hands are relatively similar.
The next decoration method is to add framing to your jewelry. There are multiple items you can use like fans, plates, or anything that may have a nice decorative edge or a decorative textural touch.
Now, you can use a book to elevate your jewelry like a necklace. Therefore, the book pages and the book spine will add an extra layer of a textural dimension along with the lovely texture of the weathered wood surface. Moreover, you can spread the chain across the book, therefore, it will give you a clear definition between the foreground and the subject level. Also, you can use old antique books. Then thrift stores with their old pages will give a nice antique textural touch.
The last one is you can fill a little dish with some gravel. That's the super-easy way to add texture and to frame your subject for the dish. Also, you can use small bowls of spice pinch pots, ramekins, or any small thing. You can fill it up with gravel of some sort. Then, you can put your jewelry on top and shoot from the above.
Final Thought
By now, we shared some important tips with you on how to grab a good amount of customers on Etsy. You can easily succeed on that platform using some enchanting images. Remember that, those images aren't like traditional, you need to apply some tips. Hopefully, we can successfully notify you of how to photograph jewelry for Etsy. So, take time and go through carefully and apply to boost your selling.