Hey, dear how is your time going? You have already some idea about photo editing service. For the demand of time and civilization the necessity of photo editing and its arena increasing rapidly. Real estate photo editing service is a relatively new term in this photo editing arena. So the business owners need to do a lot of experiments with real estate images. That is why it is becoming more and more popular. In the 21st century real-estate business is clearly ahead than any other business. Like other marketing policy, it is taken into consideration for editing real estate photos.
Basically we use Adobe Photoshop, Lightroom for adjusting the proper color and brightness to the real estate photo. Lightroom will help you to adjust the right color and brightness. These types of works need a lot of time to make appropriate editing. Busy photographers will not have much free time.
We strongly hope and believe that we could be your strong helping hand. Clipping Path Graphics will offer you the best photo editing service.  At the same time, it will save you time and money.
Furniture Adding or Removing
Furniture Enhancement
It's a new service which is coming into this arena. Sometimes the customer wants that his or her product needs to look big while marketing so that potential buyers will entice to your product. Our designers are able to enhance your product photo as per your requirements.
Our designers are able to edit an empty room into a well-furnished room. It will be furnished with virtual furniture. Our designers will be able to edit almost anything like smart TV, sofa, lamp refrigerator and so many as your wish. We are truly professional and cent percent target oriented.
Wallpaper Optimization
If you wish we can add beautiful wallpaper for your customer. We can enhance and edit photos as per the requirement.  We will add beautiful photos into your background wall on the dining or drawing room so your targeted customer will attract more and more.
Color changes within the Room wall
The professional salesman needs to experiment a lot for attracting their buyers. Do some experiments with the color will help you to make the room more colorful? It will enhance the internal beauty of your room and make it more stunning and gorgeous. Color changes are a very basic criterion of real estate image editing service.
Greenfield Attachment
You need to add a green view to your real estate image. It will attract the audience more. Surrounding your building you can add some greenfield and tree. Hope it will work for you.
Live People attachment surrounding your Building
If you see that some people are walking around the building it will make the images more attractive and lively. We can add some view around your building so that it may look extremely natural. Your targeted audience will enjoy the natural view around your home. It will influence them to buy the product more than the ordinary design.
Blue Sky attachment
This service is mostly used over the years. People from all over the world love this service. It will add an extra charm to your images. Clipping Path Graphics will help you to add blue sky into your real estate images.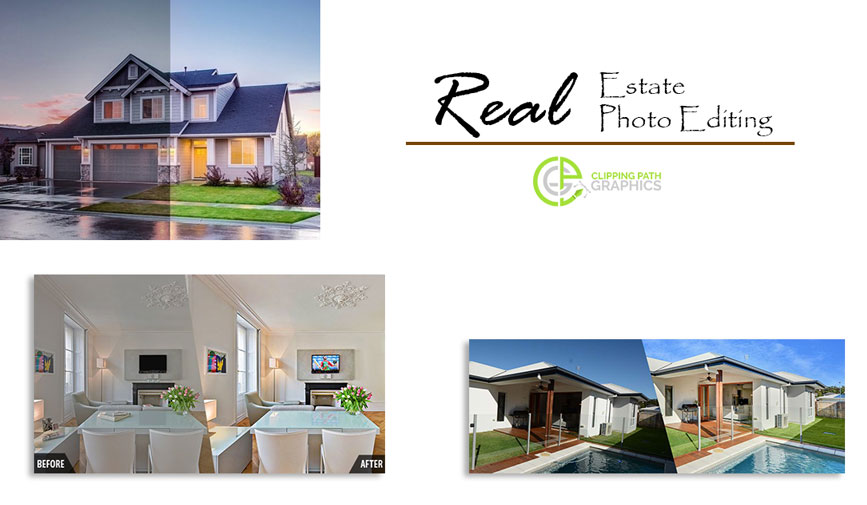 Our popular Photo Editing Services are
FAQ
What types of real estate image editing services are common?
You may find some very common real estate services among the different service providers. Basically we provide exposure correction, object removing, subject cropping, perspective correction, sky setting, and creation, straightening the image and so many. Obviously these services are money and time-consuming. It also includes furniture adding and enhancement. It is a very new service that very few companies can offer you. Common real estate services are wallpaper adding, multiple color change and selection, furniture adding, etc.
What about the Price?
Real Estate is a money-making and up-trending business. Now to keep yourself in the context of competition you need image editing service badly. From our long time experience, we have seen that ordinary designers cannot do this task very well. However, Clipping Path Graphics is providing real estate photo editing and retouching service at an affordable price. We will charge $1.3 for a single image and if you will go for a bulk order then you will have a flexible discount depending on the order.
How about the quality of service can we test it by providing some images?
If you like to talk about the quality we will try our level best to provide cent percent from our perspective. We have a dedicated team and they are working 24/7 on a three-shift basis. For ensuring your image editing quality we have three steps product quality checking system. Firstly the raw designers will do the checking and it will send for checking the quality after that head production manager will recheck the product quality. If you have any interest you can go for a free trial. You can upload your test images here.
Importance of this Service
The necessity of House photo editing service is huge. Different photo editing services like object removal from the main image, green environment settings beside the house, sky setting will make the images more colorful and live. An eye-catching image will obviously help you to boost your business. High-quality images are so much important for 3D presentations. It will attract your potential customers more and your sell will increase almost twice.
Thanks a lot for being with us. Enjoy all our services and have a great time!!