Make your old photo like brand new 
APPLY RESTORATION SERVICE TO MAKE IMAGES LIKE BEFORE
We provide-
Photo Restoration For Old photos
High-End Retouch and Restoration

Dust and sketch remove 

Reflection or light effect remove on image
Repair Damage Part of images 
More clear and damage image repair to make it like before captured
Photo restoration services have been around for quite a while. Today to restore, edit, retouch, photograph upgrade old photos, photoshop, and advanced painting, programs for photo editing are utilized. Photo restoration the old way, would cost a few hundred dollars and set aside a long time to do, not environmentally friendly. Today digital photo restoration begins with a scan, we never change the original photo, just the checked duplicate is photo edit so we can enhance, fine-tune, or adjust your photographs.
In the event that you not able to hold on to your precious memories in view of old photos that are damaged, torn, blurred, rotten, or loaded with blotches and spots. Breath life into them back with our photo restoration service. Our company has extraordinary ability in the artistic work of updating and restoring old photos. You should simply send us the damaged photos and leave them almost to us. Our photograph altering specialists will first catch your photo electronically and after that correct, upgrade and control it to restoring it to its previous eminence. Aside from the restoration of your photo, we will likewise remove color casts and adjust the difference in the photo. So not exclusively will your photo be carefully restored, it will likewise look superior to anything to what it was before!
We can meet your particular needs, regardless of whether you are a person with a couple of photos to restore, or a photo studio with mass work. Our client base is always available and ready to help you at any time.
Colour level revision or correction
Restoration of missing or damaged areas in the photograph
Stain and blotch removal
Elimination of underexposed zones or fuzziness
Enhancement of contrast and/ or sharpness
Conversion of black & white photographs into color
Repairing Silverfish damage
Restoration of folded, torn, cracked or moldy parts photographs
Elimination of scratches, dirt, and tears
Repair to damage from chemical coats or loss of pigmentation
Repairing areas damaged by album glue
Areas of expertise in photo restoration
Restoration of photo borders
SORTS OF OLD PHOTOS THAT WE CAN RESTORE
Our photo editing experts are capable of digitally restoring photos that are.
Blurred with time Stained with spots or messes up moldydull and blurry damaged or worn folded or cracked Scratched.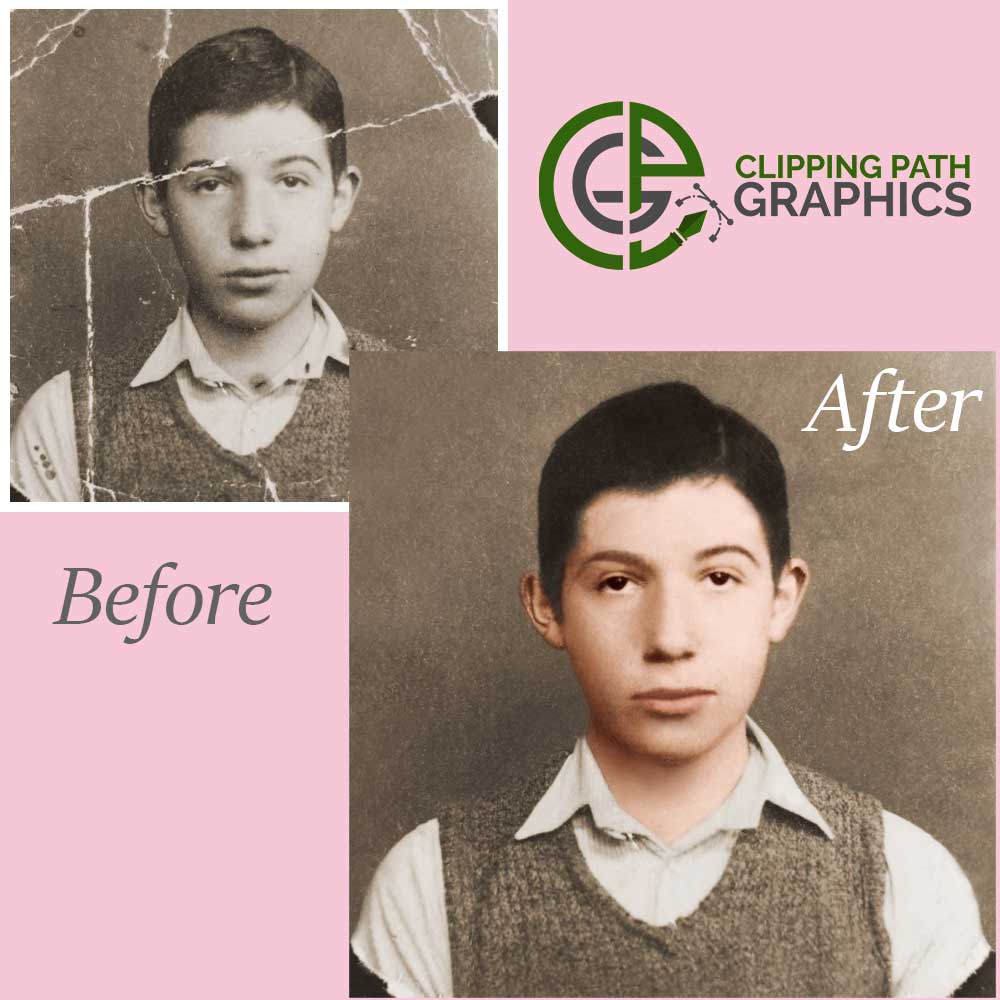 GET OUR COMPANY'S ADVANTAGE!
 At CPST, we generally strive to satisfy our clients and increase the value of their business. When you collaborate with us for a photo restoration service, you can access the following advantages:
You can get your old photos reestablished and corrected with a quick turnaround time of 24 hours. You should simply transfer a filtered duplicate of the photograph to be reestablished to our safe FTP server, and also we will send you the digitally restored picture the next morning! Our accomplished advanced picture editors can rapidly restore substantial quantities of old photos. In the event that you are an advanced photography studio with a considerable measure of old photos to restore, you can send them to us while you focus on your center business capacities
Our photo restoration services administrations are to a great degree moderate to people and also photograph studios. Despite the fact that we give ease to photograph restoration services, we don't bargain on the nature of our work. While you collaborate with us for photo restoration, you require not to have any stresses over security or secrecy, as we have made each move to guarantee that your photos are kept secure and private.
THE DIGITAL PHOTOGRAPH EDITORS AT OUR COMPANY ARE GREAT EXPERTISE IN:
 Converting color photographs into black & white images
Converting old black & white photographs into color photographs
Adjusting the color in the photo
Creating a glossy to matte or matte to glossy finish for the photograph
Modernization of the photograph
Adding contrasting themes
Color aging
Converting sepia photographs into black & white or color images
Adding duotones, tri-tones or four colors
Correcting color shifts in the photograph
Matching and sequencing within the photo
Digital hand coloring
Adding selective tints or new color schemes
Balancing the tone and tint in the photo
Re-sequencing the photo to formal or casual colors
WE OFFER THE SAVIEST ADMINISTRATIONS
Transform your old photos into new ones. Connect with us for master photo restoration services. While computerized restoration includes PC innovation, it is a workmanship that requires a prepared eye and a talented hand. We are specialists in the removal of undesirable items, colorizing high contrast photographs, changing foundations or background, individuals or unwanted objects in the photo, or we can change your photo into a digital or computerized painting.
You may ask why we need photo restoration service now standing on 2021?
We all have a thirst for having the old images back for conveying our memories. We allow them in our life for reaching out to that time. We wanna go back there for having the ancient taste of life that we couldn't get. We wanna bring the memories back to create a source of refreshment .now the point is here the photos we get by inheritance when we get already damaged, torn, intertwined background .that's ruin the process of going flashback .that doesn't help us make a  nice memory that we really want for. So at that time, we need to restore the photo to reviving the cracked, folded, moldy picture into a vintage look that may help to convey the emotion that created automatically that time and making the photo as strong as they can through the emotion over here for make us feel the moment.
Does image restoration and  image  retouching  follows the  same process of editing :
No, It's not like that but quite the same. after removing the extra damages we need to follow the process of retouching. The designer who does the retouching, we got done the restoration by him. after getting the photo they started playing with the photo as long as they couldn't satisfy .so an extraordinary photos you would get if you unleash your work in our company we can assure you that you would get the satisfactory work that may be you didn't think.
In which purpose or in which portion we need to perform as an editor  when doing restoration:
Removing scratches, dirt, tears, cracked part, folded and moldy parts of the picture. Balancing tone and tint of the images. Removing underexposed zones of blurriness converting black and white pictures into a color one adjust contrast and sharpness removing taint and blotch restore a missing and damaged area of the photos remove the background if it needs or it demands the clients and finally modernizing picture.  We do many other details of restoration editing service as per our client's demand.  
The achievement of our company we like to share
I think it's illustrious work to do because we have the responsibility to reaching our clients out to their memorable past. We have experienced resilient joy many times when we deliver the demanded photo. It's a great achievement for our company we think .we do our work with the fulfillment of the emotional requirement of the clients .so the clients came to us just on the test they won't go back to other company as we experienced ever. And we are really very cordial to our clients. We continue our revisions until our client's happiness. We never feel disturbed at all.
The process we follow when doing restoration:
At first, create a duplicate file for our photo. We use a spot healing brush tool, healing brush tool, and patch tool for restoration .for removing the scratches of the background we do use a patch tool, after that we use a healing brush tool for removing the spot. It's about background when it's about to retouch the skin scratches we can't use the patch tool as well. It's not the right tool for skin scratches, we use the clone stamp tool to revive the skin scratches .after that we follow the normal process of retouching like if we need to change the color of the photo if we want to remove the blurriness of the photos then we control the contrast and brightness of the photo. And finally, it comes out with a wonderful result.
Does it take a long time to do  editing for restoration
What aRe you thinking about after reading the brief process of editing photos for restoration? It's quite lengthy to do photo restoration. Because we need to use maximum tools and techniques for doing it. It's very time-consuming and no junior designer can do it well and they can't able to create a photo with perfection. so we got our work done by the senior and experienced designer for making the vintage look of your photo .so we fix the pricing for the restoration a little bit high and after getting the photo you would understand that we are worth deservedly of having this price.
 Some features that you need to know am gonna share here.
Our turn around time is very short 

Our prices would negotiable if you have a big project of editing.

We are responsive at every moment you feel like you need to know anything.

We will continue revisions until your satisfaction.
So Everything you need from an editing service company you would get all the convenience from clipping path graphics .we can assure you we provide the best services to our contextual clients.