The Importance of Photo Editing For eCommerce Business
There is no doubt that the world of shopping is now ruled by eCommerce. And, photography is the most critical aspect of any online eCommerce business. And, we pretty well know that without eCommerce photography, the online business can't be thought of. The success of eCommerce depends on the high-quality service of photography and skilled photography editing.
Online shopping has always been convenient for people. Customers purchase products from eCommerce websites by looking at the images shown on the websites. That is why photography plays a vital role in the eCommerce business. Online retailers use enticing pictures of their products to draw potential customers. As an adequate publicity and advertisement tool, they use professional photo editing.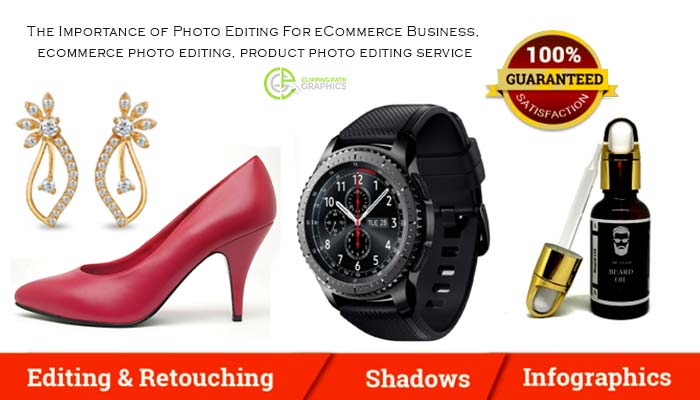 Why we need product photo editing for e-commerce business?
With highly advanced, web-based, image-centered eCommerce platforms like Amazon and Bestbuy, images are becoming a reliable marketing language to reach people.
Most people relate to the visual interface better. If it's a travel, food, or retail eCommerce company, then professionally clicked images should be at the top of your list when it comes to eCommerce marketing initiatives.
Millions of customers see product pictures every day. Low-quality photos impact the business pretty badly and eventually the sales go down. Potential buyers would like to see what they are going to buy. These days you just cannot get away with imperfect photos of the product.  Not only clicking, but you also need photo editing to enhance the image quality and fill it with taste and color.
Editing includes personalization
For an eCommerce site, photo editing does not only make pictures look fine but also it allows you to keep your product picture free from major or minor defects. This helps a brand to create its own identity in a flawless manner. You also have to show your customer some uniqueness in your product; otherwise, they won't see any reason to choose your products over others.
Maintaining criteria for image
Photo editing isn't a simple job at all. You can't give anyone the burden of editing your image. For this type of work, you need to find an experienced photo editing professional. Experience alone does not suffice because most online channels have their own photo requirements. Not all the experts in image editing know or meet those criteria properly. You can get such service only from professional photoshop service providers.
Stay a move ahead of your competitors
E-commerce is hitting the highest mark in the industry today with a touch of excellent photo editing. Buyers' expectations are growing every day and so is the competition. So, sellers need to raise the bar to beat the competition. For that, you need to look at top photo editing experts. You can beat your competitors with the help of better product photographs. A significant amount of picture sharpening is also required to take care of a backdrop for more incredible filters. It takes hours and even days to work on proper photo editing but what really matters in the end result.
Maintaining high-quality of pictures
Want to find the right photo editing tool for pictures of your products? You need to find skilled Photoshop experts. Poor images on your eCommerce site impact customers massively. Not only does it reduce your sale but it also decreases your website visitors. This will lead to a devastating end to your e-commerce business. The sooner you find the perfect photo editing professionals, the better it's for you.
Picture personalization
For different social media platforms as well as different phones, the look of the e-business advertising varies considerably. Digital ads may look different on a different platform. You can change your images to suit different platforms only with very competent photo editing.
Reliable Social Media Strategy
Social media networks in today's scenario are one of the best marketing channels out there for the e-commerce industry. Social media has been able to keep brands and consumers alive through different platforms like Instagram, Facebook, and many others.
You can also give your company a strong beginning in the eCommerce industry with professional e-photo retouching before uploads, beautiful word arts, and some of the visual signals.
In total, photo editing is a way of substantially improving and increasing traffic on eCommerce websites. It increases visitors on your site and eventually sales.