We have already discussed a lot about different types of photography and photo editing techniques. Today we will discuss a new topic & it is ghost mannequin photography and editing process. The ghost mannequin effect has a big effect on eCommerce industries. If you are a professional fashion designer or a product photographer ghost mannequin photography and editing is the basic part of life.
Naturally, this effect is created by cutting out various types of mannequins from the image to get a ghostly look. It has the amazing capability to create a positive look among the customers.
How to do ghost mannequin photography and photo editing
The Ghost mannequin effect has a significant role in eCommerce business all over the world. You cannot think of a modern eCommerce site without ghost mannequin photography. It will help you to expose your eCommerce dress at every corner.
We create this effect by cutting out various types of mannequins from the selected image to get a ghostly look. It has a strong capability to create an impression among the customers. From my experience, I can say that it is one of the most efficient cost-effective ways. The reason is you don't need any efficient model for modeling purpose. Just use a simple doll and do your photography. Save some money here.
The mannequin will help you look your product more professional and convenient. This product will also come up with perfect body shape.
Now if I tell you about the amateur photographers it will really difficult to create a mannequin effect but if you like to hire a professional one. He will serve you much better. Mannequin effect is a joint procedure for the photographers and photo editing companies. In this article, we will briefly describe the mannequin photography. You will know about how mannequin service will create a hollowing effect among the users.
Now let's prepare for product photography
For starting this process at first we need a special well-equipped studio. It is really necessary for this process. You need some necessary troops in your photography studio like hangers, soft papers, tissues, tripod, stands, tab, hanger and so many. You may need some small mannequin in your photography studio. If you have the available model than you can go for a various model.
Now let me tell you the last but most important thing in this photography sector and it is your high-quality DSLR camera. Now if you are able to manage all these products together you are ready to go for your special product photography. Think about the light. The adequate amount of light is needed in the studio room.
Now let me tell you the types of mannequins that are available in the photography section
Half body white mannequins
If you like to shoot the shirt, pant and long woman dress you need to capture the full view of the dress. Now think a bit different now if you like to shot the only the shirt or pant what will you do. Then you need to capture almost half of the body. In the same way for pants and trousers, you can shoot a lower half portion. We called it a half body white mannequin.
Transparent mannequin | Ghost Mannequin photography
It is another type of mannequin format in this industry. The results from the same as others do. So it looks awesome and most of the time you can use it without any editing. So I think it is a time-saving process for the product photographer. But, for a highly attractive user converting image you may need some photo editing service.
Human Mannequin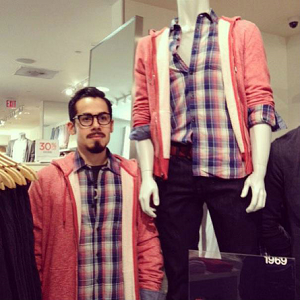 Sometimes human models are using instead of mannequins for shooting different product photos. You need to keep one thing in your mind that model must be good looking and handsome. During photography, he needs to widen his hand or legs.
How to remove mannequin from the product photo
In general discussion the mannequin photos cannot be used directly it needs editing. Objects need to be removed from product images. For ghost mannequin service the designers need two snapshots of the image of the product it's called the front part and the other one is back part.
Initially open the front part of the T-shirt in Photoshop and use the pen tool to remove it from the background.
Troubleshooting
During photo-shoot for ghost mannequin, you may face some problem. Let me discuss some of them. Now, if you are able to fix those issues certainly you will be able to get some natural looking gorgeous photo.
Select a Big room:
You need to carry a lot of instruments and troops like umbrella, tripod, light stand, DSLR camera and a lot more. If you like to work for a big brand then you need to deal with a lot of troops.
Equipment
Manage all the equipment before the shooting program. It is really necessary to go for a complete package.
Set a white backdrop:
The backdrop is really important to get a complete view. Always keep a thing in your mind that your product color and backdrop should not be the same. It will create difficulties. Suppose if your product color is black use a white background backdrop. So, always keep this thing in your mind you need to get out the full view of your product. Keep your product focused.
Get your umbrellas and set a camera
For an appropriate lighting Get two umbrellas to make the right position for your camera and take an effective shot. Umbrella will help you to control the light and shadows.
Choose the right mannequin
Choosing the right mannequin is necessary. You can take the mannequin from the upper part of the body for the top portion. Here the lower part will be used as the product showcase.
Dress up the mannequin
Suppose your product item is very big and loose than it might create a problem for you. You might use some pins or taps for fitting this product. If the item is human than you might tell him to spread it up or fix with according to the image.
Take ghost mannequin service from a company
If you face any problem regarding photography you can hire any company to complete it successfully. After completing photography you might need some photo editing service for making this product more realistic.
Learn about different fonts for graphic designers 
Final few words on Ghost Mannequin Photography
I believe this article will help you a lot on this specific topic "Ghost Mannequin photography". In this article we have tried to make the topics clear and give you a brief idea about it. Hope you would like that. Thanks a lot for being with us.