Ghost mannequin is an interesting part of photo editing. Here we carried away the background along with the mannequin. So It looks like a ghost. That's why it's called ghost mannequin. It's also known as neck joint service .most invisible images of mannequins is created from just two other images but sometimes more use is needed. Mannequin is allowed the products to retain their shape, which can improve the professional and consistent appearance, of product images, thereby increasing consumer demand .we can't think of any editing service company they're not using this for promoting their business.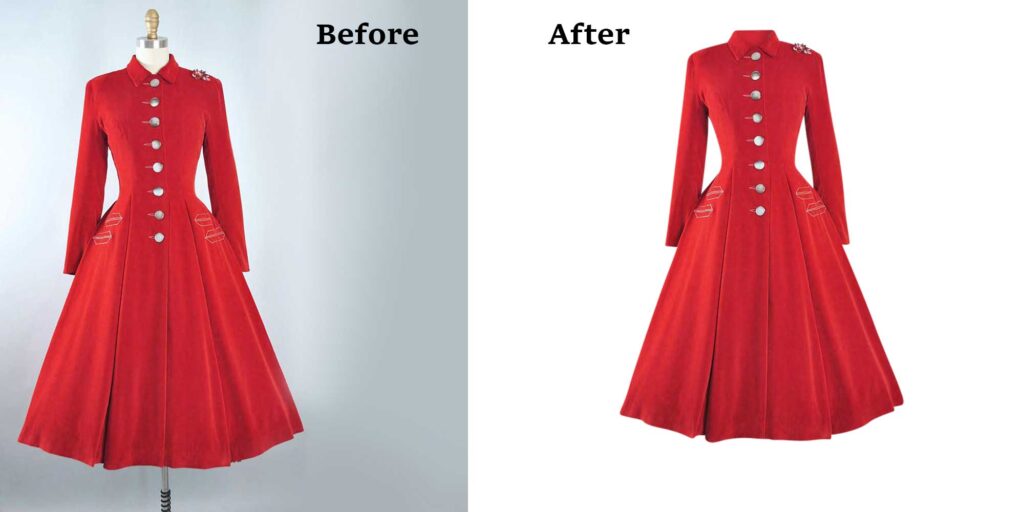 1st  thing that our designer do they cutting off the mannequin as well as the background from the product by using the pen tool.

They they start from the above of the collar where the mannequin's neck begins to the below till the mannequin's neckline.

By following the same procedure they do complete the full item. Then they choose path inverse selection and delete the background.

The next step is to open the inner side of the product to crop the collar area.

Now moving the inner portion of the cropped part in front of the first image of the product. In this step, they send the new layer under the first layer of the product's front side. Here they choose the pen tool, cut through the portion that implanted from the top of the collar, and throughout the edition of clothing.

To soften the uncut area, they choose the eraser tool. Sometimes our designer adds a shadow to give a realistic look.
And finally setting up a white background will make an appealing look for this photo.

Avail of invisible ghost mannequin:
Ghost mannequin is the most popular editing service in this department. Because it's very expensive using models for advertisements for your product. It will be comfortable for you using a mannequin that easily substitutes a model. Posting your product photo with a mannequin is not that smarter. It's won't be acceptable to your clients. Because they can't focus on the product they're looking for and every part of the photo won't be as clear as they need .so ghost mannequin service is too much important for the editor as well as clients.
Read More: Why photo retouching services for amazon matters
Why we rely on  an editing service  company for ghost mannequin:
There is much other automatic software that can do all of these services like ghost mannequin, background removing, color correction, shadow making everything .but you can easily imagine how works an automatic software. They don't understand your need and your emotion actually. they would do you automatically. However, an editing service company would do this work manually. They would understand where to touch your photo and where not.
In this age of modernization, our life mostly depends on online products. So not only ghost mannequin our company focuses on every topic of editing-related services. Every service that we're providing is very important for e-commerce businesses and for those whose business is running through editing services. we've several specialists for all these services.So, depending upon the editing service company for eCommerce business will be a smart decision for eCommerce business.`