Difference Between Clipping Path and Masking!
Clipping path and image masking; both these image editing procedures may look quite confusing to a layman. These two methods are used hand in hand to separate an object from an entire image and/or to place a new one using some creative techniques. But the procedure is completely different from each other.
Clipping Path Overview
The most basic and essential image editing technique is the clipping path. It is commonly used in image retouching, color correction, background removal, shadow making, etc. With the help of a pen tool in Photoshop, the form, pattern, hole, and design can be accurately cut. It is used primarily with acute, harsh, sharp, smooth, and direct edges. Designers should be careful as a small flaw leads to unnatural and unrealistic results. So it is always better to zoom the images as far as possible, to do so correctly and perfectly. So designers can approach the edges and easily cut the straight lines. This would remove the risk of the picture content is wasted.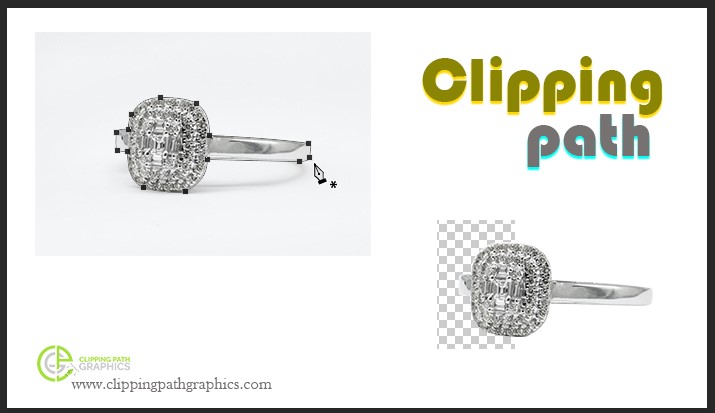 Image Masking Overview
Image masking or layer masking is another technique of exposing or hiding parts as well as removing the background of an image for high-end retouching. Masking is usually used when there are so many turns, curves, complex soft edges, lots of lines, and little details in the image. Smoke, fur, human hair, feathers, shoes, sweat, blankets, and flames are the main topics. In Photoshop, the masking of layers can be achieved by means of a context eraser tool, magic eraser tool, and color separation technique. To alter, modify, and add a new layer to remove unwanted portions or objects from the image, clipping masking is applied. This is generally used to produce catalogs, pamphlets, leaflets for commercial purposes. It is often used in advertising, newspapers, illustration, electronic products and agencies for digital design, etc.
Clipping path vs. image masking
Image masking and clipping path both are effective image editing techniques that can help you remove the background from an unwanted object. The principal distinguishing feature is the process by which you remove the object from your background or some elements to it.
Let's check some between Clipping Path and Image Masking in detail!
The key differences between the clipping path and the masking of the images are the nature of the operation and the effect. Clipping path service is the service most often used by most photo editing systems to delete parts of an image from its context. It is a great way to use simple forms and objects. Clipping path is, however, an inappropriate method for complex shapes such as hairlines, since the output resembles an artificial look. Moreover, if done on such complex shapes, the clipping path process may also result in losing some portions of the image.
Conversely, the masking of images is a technique that is more effective and complex than the clipping path. The masking requires the use of more image processing tools and techniques, such as Photoshop, to distinguish the image from the background effectively. Image masking is ideal for delicate images like fur and hairlines because, unlike the cutting course, it can distinguish them without losing their natural looks.
Methods and techniques used vary from the clipping path and the image masking. Image masking uses a range of tools like background eraser, magic eraser, color separation technology, etc. to separate the item from the image background.
Clipping path and image masking are often used to eliminate image backgrounds from images to make products appear more professional, natural, and attractive. So it's also equally important to cut the path and mask images. And we know how important each and every image of the online and e-commerce product looks! To remove unwanted objects, background removal assistance from your e-commerce product images, contact any professional company for clipping path or image masking service.
Nature of clipping path:
Removes background quickly
Only a pen tool is used
Edges will not look natural for complex images like fuzz on a sweater and model hair
Apt for simple images, where the object has sharp edges
Not suitable for a professional use
Nature of Image masking:
Takes some time but removes professionally
Uses background eraser, refine edge, magic wand, and tool
Natural and sharp looking edges
Suitable for professional work
Efficient and Competitive
Apt for removing background from the fuzz on a sweater and model hair image.
Wrapping Up
Clipping path, as well as image masking, is equally important in photo editing service. Many web designers, as well as photo editors, have similar access to both Photoshop techniques. Both these techniques are used to improve your image quality; it depends on the requirements, which technique needs to be used.