Best Way to Put a Product on a White Background
The reliability and perceived value of a product are often determined by the quality of its visual presentation. And high-quality, professional-looking product photography can go a long way in building brand value. It plays a key role in influencing buyers' decisions.
The ideal way to showcase products online and improve their effectiveness is to display them against a white background. However, hiring a professional photographer is often not financially feasible for many store owners, particularly when they are starting up.
So, what's the best and cheapest way to put a product on a white background?
In this blog, we will discuss all the options you have to edit product photos on a white background, maintaining quality and budget.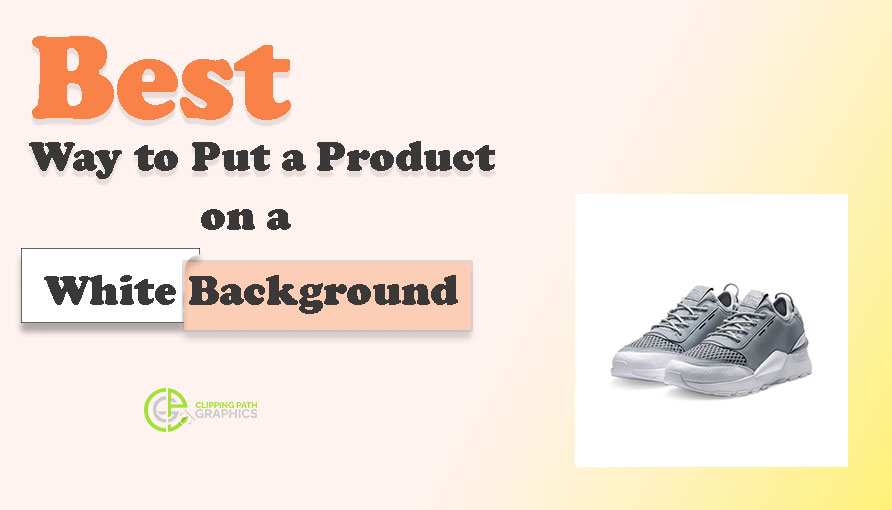 6 Proven Ways to Display Your Products on a White Background
It's a common practice for e-commerce sellers to showcase their products on a pure white background. This makes the products look more professional and helps achieve consistency. A white background allows buyers to focus completely on product details, with no external distractions. This helps make informed buying decisions.
However, removing the original setting of your product image and placing it against a white background takes accuracy, time, and money. And of course, you will not settle with some poor editing job by cheap product photo background removal services. So, here are 6 proven ways to get the job done professionally but without burning your pocket.
DIY Product Photography
This might sound cumbersome, but shooting your products against a white background is not as complex as it sounds. You just need some basic tools and hands-on experience clicking photos with a DSLR camera or a Smartphone with a high-pixel camera.
For DIY white background product photography, you would need the following:
A light tent or a lightbox: Some popular brands you can use are LimoStudio, Square Perfect, FotodioX LED Studio-in-a-Box, or Neewer.
A shooting table: This should be any flat surface.
Camera or Smartphone with a tripod
Perfect lighting: Photos can be clicked using natural light or high-quality studio lights
A photo-editing software for quick touch-ups to make the products look more professional and visually-striking
Master Photoshop for Background Removal
Let's face it. Adobe Photoshop software is THE industry standard for image editing and effective background removal. It offers different options to remove the background of your product photos and place them against a white setting. You can work on the minutest details of the image – pixel by pixel – to achieve perfection through layers, masking, clipping path, etc.
On the flip side, you have to master the art of Photoshop to edit product images like a professional. Even seasoned Photoshop professionals may take hours putting product images on a white background, especially when there is a big batch to be worked upon. So, you might look for some other simpler and better alternatives.
Use Pen Tool for Clipping
Editing image background using a clipping path tool is a widely-used option and helps achieve precision. It allows cutting out a 2-dimensional image against a closed vector path, and anything outside the clipping path will be omitted. The "clipped" product image can then be placed in a white setting.
Most image-editing software comes with a pen tool that allows you to trace the product around its edges, cut it out, and put it against a white backdrop. The method is highly accurate but time-consuming. Plus, you need to be proficient in hand-drawn clipping to ensure the edges do not look unnatural when cutting out.
Auto Mask Adjustment Brush
Auto masking is another tool you can use in Photoshop Lightroom to adjust the product image background to white. Click the "Develop" box on the right of the screen to see the adjustment panel. Select the adjustment brush and increase the exposure to get a white background for your product photos.
Since the adjustment brush is automatically set for masking, it can identify the contrasting edges of the product image and the white background. Now you can use the paintbrush to fill around the edges. The process is easy and quick, but may not always render consistency.
Get an Online Automated Image Editing Tool
Don't have much time editing product image backgrounds in large batches? You can download a good online image editing tool that allows you to remove your product image background and put it against a white milieu in a fast and simple way. These automated tools can be easy to use and inexpensive but may fail to create a high-quality image if you do not have the experience of clipping photos.
Outsource to a Professional Photo Editing Company
If you are considering a more effective and budget-friendly option, you can outsource white color product photo editing services to an expert. Professional companies like Clipping Path Graphics use cutting-edge tools and unmatched skillfulness to set blank backgrounds for bulk batches of product photos. They ensure not only high levels of precision but also have a quick turnaround time.
So using the above tips will help you put your products on a white background and achieve superb image quality and consistency.