Do you have old images that need to be brought back into their original shape, then you must use the photo restoration services. Photo restoration is one other great process in the world of image editing services. Many people come with photos of their loved ones who have died, and now the images are dying. To restore such pictures, they use photo restoration services so that they can make their images look as fresh as new with no lost details in them.
Best Photo Restoration- In photo restoration, services are employed to give your distorted images a new life by removing any scratches, improving brightness, restoring the torn pieces, removing traces of time influences, and enlarging the image. Best Photo Restoration service provider and expert designer.
But where can you get the best photo restoration services when you don't know any companies that would give you the best quality? Well, we at Clipping Path Graphics are here to do you a favor.
Clipping Path Graphics is a trusting photo editing services provider company since 2015. We have very extensive experience of working in this field. Over 5 years of work and dealing with a thousand clients worldwide, we have developed the right sense of skill to edit images in the best way. Are you also thinking to get old images renewed but are hesitant of doing so? Following are a few reasons why you should contact us at Clipping Path Graphics right away!
Why should you restore your images?
You are preserving a very long family history. With the new advancements in technology, it is possible to edit, enhance, and save your images in digital files that you may share with your family members or friends through the digital medium. Too often, many important photographs are never seen while being stored in a box far away, but now is the time to get them restored because you totally can! Best Photo Restoration For Highest Quality Best Photo Restoration service.
You can preserve the originals:
The main benefit is that the preservation of your originals becomes possible when you get your photos restored. In the case of those deteriorating photos, time is highly important. Professional photo restoration from Clipping Path Graphics may help stop this damage and improve your images' overall look.
Eliminate the scratches, tears, folds, fading:
You may also be able to digitally scan your old images and restore the shortcomings such as any tear, fold, fading, or scratches. You may also find online tutorials and software that can help you restore old photos and get the best possible results, and you should consider having experts from Clipping Path Graphics. look out at your old photos, family photos, historical photos, faded photos, creased photos, torn photos, and any such photographs that need a repairing session to come back to their original beauty.
Add sepia or full-color to the old black and white images:
When you are restoring old images? You may choose to add the natural sepia to the old black and white photos so that all of your restored images can match one another. We may even transform the images into a full, lively color set. Professional restoration and editing practices may add a clearer focus on the sharpness level, besides adding realistic shades to images.
Electronic storage and easy sharing:
Restoring older photos lets you convert them into digital images that are easy to store and share with your friends or family. With the advances in technology. It is possible to take a whole photo collection and store it on DVD, CD, or a memory stick.
This may be an easier way to retrieve any special group of photos or safely have an additional copy that will last in the digital world forever. You may share the digital copies using email or print.
For historians, the advantage of restoring old photos is mostly priceless. The genealogical benefits are very important to people that are trying to build up a whole family tree. Expert restoration practices must be used on historically important images.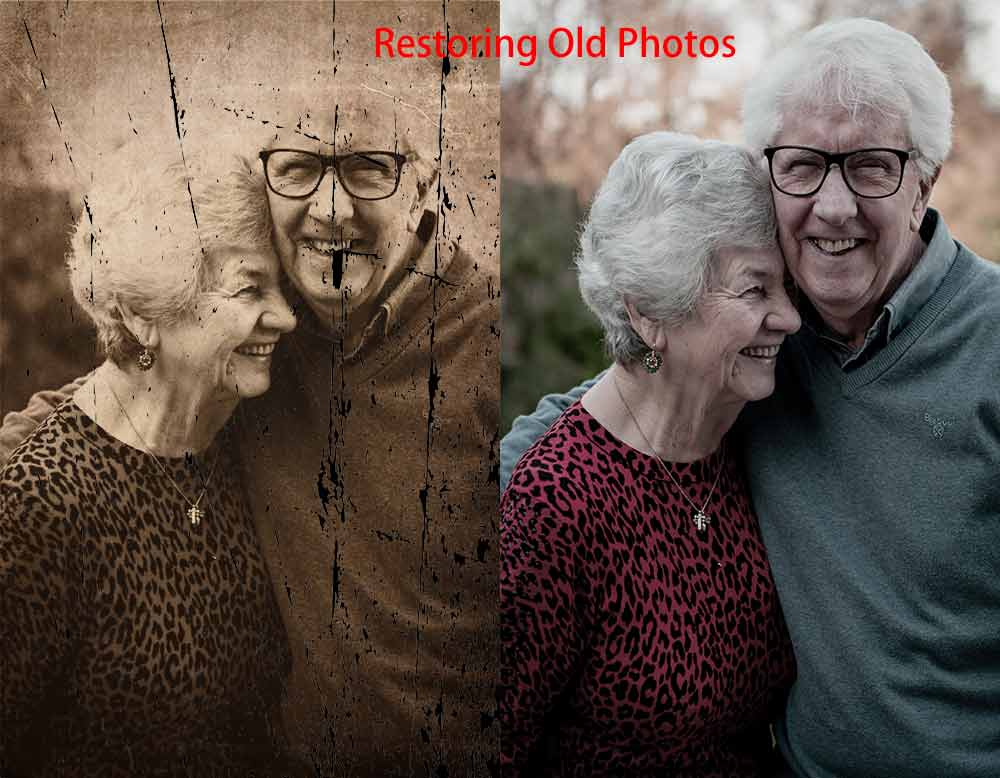 These were some reasons why you should consider using photo restoration services from us at Clipping Path Graphics. We have been serving our consumers with the best for a good long while. And have helped them gain a lot of growth online. We are professionals here to offer you the best services to grow your products online and attract more conversions. To have more sales hire a professional photographer and get high-end photo restoration services so that your products can look the most attractive. Focusing more on your product images will be the best way to attract more sales and boost your growth online.
We have the best professionals who know how to edit any image and bring it back to life. We use special techniques smart enough. to fill in the gaps of torn parts of photos. and make them feel unseeingly new. You can take your whole family ancestry with you.
in digital format by using these services that are good enough not to be missed at all.
You will also be able to share these digitally restored images with your family members. So that they can revive their lost days as well. Technology is the best when we know how to use it the best way. Be smart enough, and don't let your history slip away from your hands. Let's restore our old images and keep those oldies fresh forever.
Having a coherent image collection on your website. This will allow you to grow your sales and grasp the commerce success you always wanted to have. Clipping path services can help you remove the distractions from your original background and get a more soothing and professional background fixed in place.
So are you ready to boost your online growth? Let's start with editing your images in a way that they look they're very best in e
Meta Description:

Photo restoration is one other great process in the world of image editing services. Many people come with photos of their loved ones that have died and now the images are dying too.