Automotive Photo Backgrounding for Online Inventory
Despite market volatility and economic recession, the competition is cut-throat in the global automotive industry. Keeping pace with the ever-growing digital technology, most auto manufacturers and dealers have taken their business online. Car buyers can now easily browse through the vehicle inventory right from their computers or mobile devices, compare features & prices, request a test drive, and make bookings.
The digital revolution in the auto industry has further spiked the competition to showcase the products in a compelling manner and create a strong first impression. The more beautifully you present your vehicle inventory, the more it will capture the attention of your customers and invoke them to buy. So in addition to top-notch photography, automotive photo backgrounding plays a pivotal role in improving the quality of your vehicle photographs.

What is Automotive Photo Backgrounding?
Automotive photo backgrounding is an image-editing technique that helps remove, edit, or fine-tune photography backgrounds to enhance the look and feel of your vehicle inventory. Vehicle images, when taken against normal backgrounds, may not look impressive. Photo backgrounding is the process of removing the original background and placing the image against a more professional-looking backdrop.
Choosing the right photo background helps focus on the subject, i.e., the vehicle. The photo backgrounding technique allows creating a perfect backdrop that highlights key features and visual appeal of the vehicle, minimizing background distractions. Today, 40% of car-buying decisions are influenced by vehicle images. Therefore, it has become more important than ever to make the photos look more professional and real-life.
Automotive photo backgrounding for online inventory helps generate high-quality photos to showcase on your website, digital catalogs and brochures, and online advertisements. Inspire your potential customers to stop by your online vehicle inventory, engage, and ultimately buy. As a result, the great photos help sell your cars faster!
Automotive Photo Backgrounding Techniques
 Automotive photo backgrounding for online inventory is a complex process and involves several techniques to achieve the desired results. The most widely-used techniques are:
Clipping Path: If you want your vehicle photos to be realistic-looking and impressive, the clipping path is an effective technique. So, the process involves cutting out the primary subject along perfectly drawn clipping paths and putting it against any desired backdrop.
A Pen Tool is used to draw a closed vector path around the objects you want to edit. For high-end precision, the photo is zoomed out to 200% and the clipping path is hand-drawn to achieve clean and finished edges. The object inside the path can then cut out for background removal or retouching.
Background Removal: In the auto industry, having the right background can make your vehicle photos pop. Whether you want a white background to showcase the key highlights of your car. A single or multi-color tone, or any backdrop that looks professional and appealing. This photo-editing technique can help achieve the desired outcomes.
It uses a hand-drawn clipping path to minutely capture. Even the last detail of your vehicle and influences your potential customers to buy. Once the image will clip and remove from its original background. It will use against any backdrop you want. You can find a wide variety of automotive photo background templates online. Elsewhere, hire an expert image-editing company to get professional-looking vehicle photos for your online inventory.
Photo Retouching & Color Correction: Once the desired photo background is achieved, you can use photo retouching and color correction technique to further enhance the image quality. It makes the vehicle stand out against its background and improves its look and appeal.
Drop Shadow: Drop shadow is another editing technique that makes the vehicle photos look realistic and generate more sales. Integrating vehicle shadow in the background helps add more depth to the photo and brings the product to life. So this visual effect is often not achievable through professional photography.
The best thing about automotive photo backgrounding is you can edit and enhance all images in your online inventory in a fast and efficient manner.
Benefits of Automotive Photo Backgrounding
Let's understand why you should consider automotive photo backgrounding for online inventory:
Be Creative: Position your auto brand successfully and uniquely showcase your online inventory with high-quality, professional vehicle photos.
Eliminate Noise: Any sort of distractions or unnecessary elements in your inventory photos can disrupt your consumers' buying behavior. Photo backgrounding helps focus on what matters most – the vehicles.
Maximum Impact: Achieve a rock-solid first impression with multiple backgrounds. Swap photo backgrounds across the entire inventory or showcase all your vehicles with the same background for more consistency.
Pick Your Style: So you can choose from a range of photo backgrounds that help personalize your inventory. Download online or hire a professional image-editing tool to get the desired results.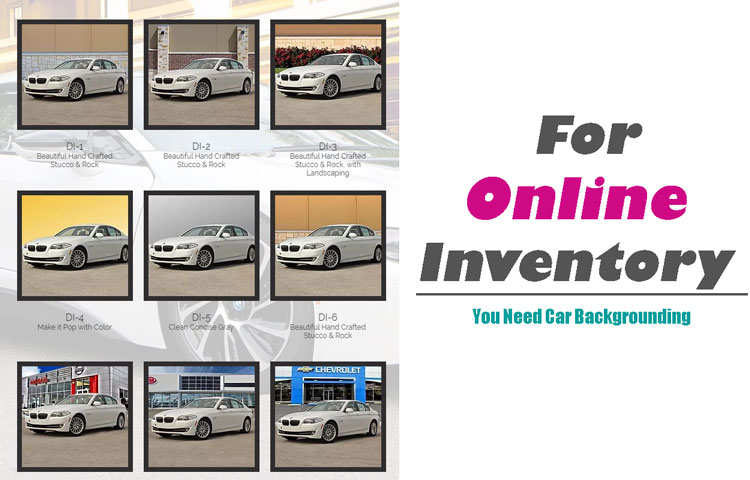 So Automotive photo backgrounding is an effective technique that can help enhance the visual appeal and marketability of your vehicles online. To achieve high-end precision and lifelike vehicle photos, you should consider hiring an expert company that has decades of experience and skillfulness in automotive photo backgrounding for online inventory.